Sassy & Stylish: Top Short Hair Styles for Women Over 50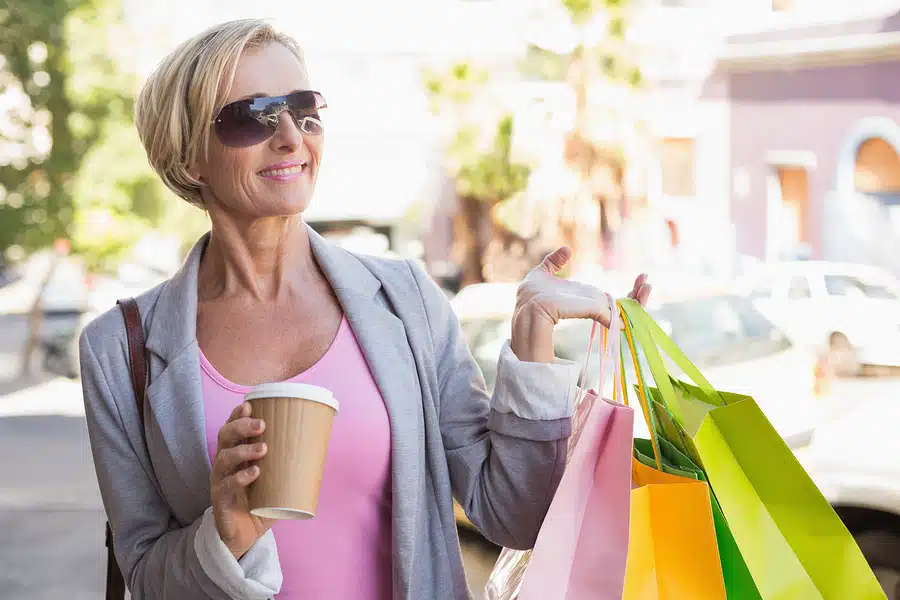 Choosing short hairstyles for women over 50 isn't always as simple as it looks.
While women like Jamie Lee Curtis have been pulling off fantastic pixie cuts for what seems like decades now, it takes a certain kind of know-how to select a style that will suit not only your face, but also your lifestyle.
It's a pretty major decision if you are deciding to go for the short look.
So you want to take your time to make sure that the style you have chosen will suit you.
Best Over 50 Short Haircuts For Women In 2023
If you want to change things up, here's what you should know to make this process a little easier – and a lot more fun.
Match Your Complexion With Face Shape
Before you go ahead and pick the best short hairstyle, you first need to take a few important factors into account, including your complexion and face shape.
Complexions range from ruddy to olive and can impact how well your haircut suits you
A ruddy complexion has pink undertones, as well as freckles, while an olive complexion has yellow and beige undertones.
All this should play into what hair colour you choose and is especially appropriate when considering over 50 short hairstyles.
Why Not Choose Your Short Hair Cut, Based On A Celebrity That You Admire?
Different complexions suit different hairstyles, so it is usually best to ensure the celebrity or model you want to emulate has the same complexion as you do.
Has anyone ever told you that you look like Jennifer Anniston?  Or that you have the same complexion as Nicole Kidman?
It should be easy enough to look up what type of complexion they have so that you can use this information to your advantage.
You don't necessarily need to copy their styles exactly  – and remember that celebrities have teams of stylists who are the best at what they do, choosing their every fashion move.
You could do worse than taking their advice by simply following in the footsteps of their clients – and the great thing is that you'll get that advice absolutely free.
Snapshot: Our Top Short Hair Cuts For Over 50 Women
The one-length bob
is a blunt cut bob that sits just above the shoulders. This look has been paired with a blonde colour, which is gentler on the features and can actually shave off years of a person's age.
This colour will take some upkeep, especially for those with a darker natural hair colour, but it is also eye catching and makes the additional work worth it.
You can pair this style with a middle or side parting, depending on your preference.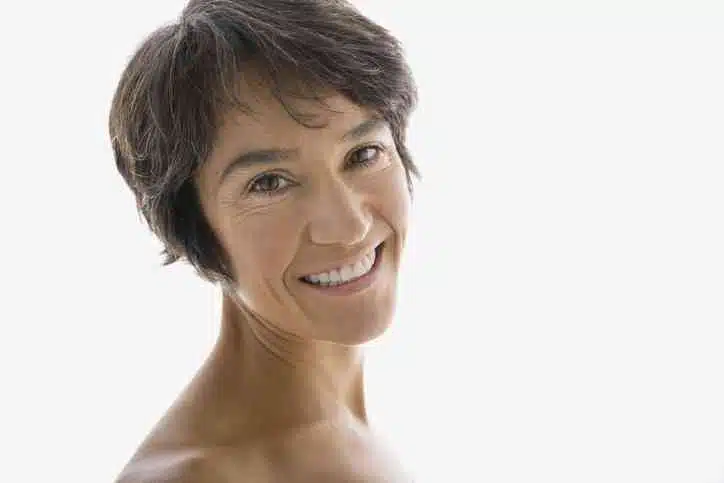 Choppy cropped cut with side fringe
If you are searching for a whole new look, take a chance on a choppy cropped cut. There is nothing like seeing those locks fall to the floor and walking out that salon with a lighter, fresher style and a choppy cut will really lighten the load, reducing the chances that you're going to walk out with a "helmet".
For a little playfulness, add in a side fringe that sweeps across your forehead, blending nicely into your youthful, new look.
Cropped cut for wavy hair
Not quite a pixie and not quite a bob, the cropped cut used to frighten anyone with a natural curl but not anymore. If you're looking for a truly low-maintenance hairstyle, this one is for you, especially if you're willing to show off those greys with pride.
The trick to a great wavy crop is to get it done by someone who knows how to cut wavy or curly hair – there's a knack to it, and done right, your curls will thank you.
Mid-Length Hair with Choppy Bangs
If you are tired of trying to breathe some life into dead-straight hair, a layered mid-length cut with choppy bangs might be the perfect option for you, especially if your hair is on the thicker side of things.
The varying lengths of the hair and the bangs adds movement and character to an otherwise seemingly unexciting style. The warm, dark cherry colour of the hair is perfect for autumn without ageing the face. This season, it might be time to see if red heads have more fun!
Light fringe with a layered bob
A light fringe is perfect for anyone with finer hair because it frames the face, giving the impression of a fuller head of hair.
The layered bob adds to this effect because the layers give the impression of movement and volume. The darker roots add another layer of definition while the lighter ends make you appear more youthful.
Overall, this is a perfect, no-nonsense style for a distinguished woman looking to accentuate all of her best features.
Cropped blonde style with side parting
There's nothing more manageable than a cropped cut because all it takes in the morning is a little bit of a product and a positive attitude to get going.
If you're tired of the upkeep of longer locks, this might be the option for you. The light blonde colour is perfect for covering up those greys and isn't quite as tricky to keep up with as a darker look.
The side parting is a really fashionable addition and finishes off the look quite nicely.
Copper blonde cropped cut
If you're looking to warm up a blonde look this winter, copper blonde is the way to go. Not only does this cover up the greys really nicely, but it also adds a pop of intrigue to your style.
The cropped cut with a side parting is as suited to the boardroom as it is to the theatre. This easy-to-manage style is particularly suited to round and oval face shapes but will really work just as well with any face shape.
Platinum pixie cut with micro fringe
There's something classically beautiful about the platinum pixie cut. While seemingly very simple, it can be styled in an infinite number of ways and suits just about any style.
Tease the back for some added height or play around with it for a fun and easy-going look, you just can't go wrong.
An additional, almost built-in micro-fringe is very on trend at the minute and while the origins of the look date back to the 1950's, it's still turning heads today.
Don't forget to take into consideration the shape of your face.
When it comes to face shape, there are a variety of categories into which you could fall, including oval, round, oblong, square, heart and diamond.
Cuts for women over 50 should always take into consideration the face shape –  because shorter hairstyles can really accentuate your face shape.
Your hair frames your face, and the wrong style could accentuate negative aspects –  such as making an oval face appear too long.
Has Your Hair Texture Changed As A Woman Over 50?
When considering going for your classic short haircut, you want to consider the texture of your hair – do you have fine hair or do you have perhaps thick hair?
When it comes to short hairstyles for older women,  the texture of your hair will be a major factor in a new short look.
Get A Short Haircut To Look Amazing
The right style, however, can minimise flaws and accentuate the best parts of your face shape. This will make you look and feel amazing– as well as take years off your age.
Just as you match your complexion to a celebrity you admire, why not do the same with your face shape?
There are plenty of online quizzes that will help you in making a match, and once you have it, you can scroll through their hairstyle "best hits" to see what might suit you best.
Pixie Cuts For An Older Woman
Pixie cuts are staples of every short hairstyle selection so it's probably no surprise that they're on this list.
Add some choppy layers to add a bit of texture to this very youthful cut.
If you're looking to add a more sophisticated dimension to this look, you can always go for the classic grey pixie cut, adding some feathered layers into the mix.
For those more adventurous souls, you can even opt for the pixie-undercut and go short-short down the sides and back, with some layering over the top.
Bob Hairstyles For The Mature Woman
You don't have to go for a pixie cut to keep things looking fresh – a bob is a time-honoured tradition for women looking to overhaul their "look".
A layered, bouncy bob gives this style a more traditionally feminine appeal – something that is a good fit for anyone who wants the perks of a short hairstyle without too much drama.
The Angled Bob
Angled bob cuts became all the rage the moment the world saw them on Victoria Beckham and it seems as though they'll never quite go out of style.
What makes this cut even better is that the angled shape actually counters the softer appearance of an ageing face, and if you have a great chin, this is really going to show it off.
Choose Colours Wisely When Considering Short Hair Cuts
The right colours make all the difference when it comes to the best short hairstyles for women over 50.
Darker colours can age a person, so think twice before going jet black or dark brown, even if this has been your preferred hair colour all your life.
Think about it this way – if any time were the perfect time for a change, it's now.
If you're a bit worried about making a drastic change, start by lightening your hair really slowly – you'll not see much difference right away, which will give you time to get used to your new look.
Colours for women over 50 in 2023
As you age, you'll want to play around with lighter ambers, blondes and greys – and don't shy away from the silver purples.
As with any other decision you make about your hair, the right colour should make you feel more confident, more beautiful and more "you".
Take your time trying new options, and if you make a mistake, don't worry – it's easy enough to correct with a trip to the salon!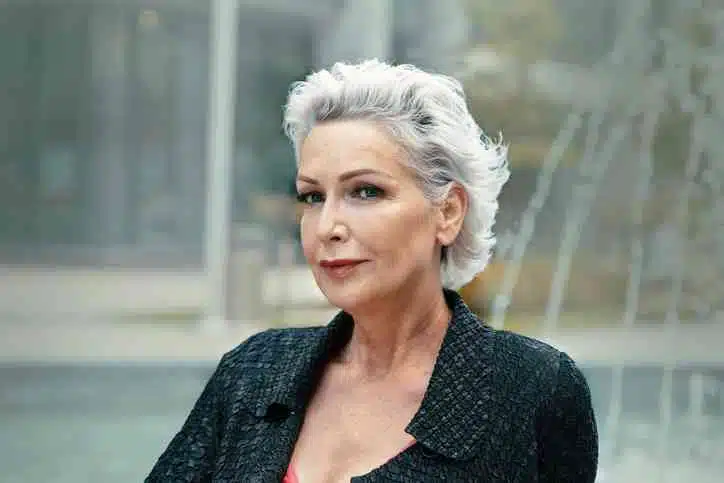 Nothing says versatility quite like layered cuts which suits everyone who wants styling flexibility whether working hard or letting loose; however busy life gets — there are plenty of options four those choosing this trend!
These type of cuts offer loads of optionsmaking those with various face shapes or hair types look stunning. Select shorter lengths, providing different depths meaning you'll have control over just how much texture and movement to showcase while expressing your style!
Short Pixie Haircuts For Women Over 50
Pixie cuts are the ideal option for women who want a modern and sophisticated cut that pairs well with their age. These styles work best on those wanting low-maintenance crops that won't require vigorous maintenance.
If you're more daring, why not opt for an edgier version? Think choppy layers in spiky arrangements allowing full self-expression.
You can prove that edge shouldn't limit creating interesting hairstyles, sleek enough for any occasion.,
Short Spiky Haircuts For Over 50
Think short spiky hairdos aren't suited to the aging crowd? Think again. This is one of the most exciting trends to embrace all ages-  edging out timeless classics and turning them into something fiercer than ever before.
They are perfect because short spiky cuts deliver desired excitement needed to complement everyday outfits, and will boost your confidence levels.
Women's Short Layered cuts For Women Over 50
One thing middle aged women understand is keeping things simple without sacrificing excellent looks—layered short haircuts offer both fashionable aspects alongside basic requirements serving looks only when essentials satisfied.
Layering helps bring dull tresses back from the dead by adding depth and making you look vivacious again!
In conclusion, short haircuts for women over 50 can be perfect. Whether you're choosing pixie cuts or the spiky versions, they provide enough texture and movement to make your look more dynamic—layered styles offer both fashionable…and younger looking!
As women age, their hair changes, and it's essential to find a haircut that flatters and suits their unique style.
Over 50s celebrities who sport short haircuts
Short haircuts are usually associated with young women, but they work for women of all ages. Some celebrities over 50 have embraced the short cut trend and proved that you can still look great with shorter locks.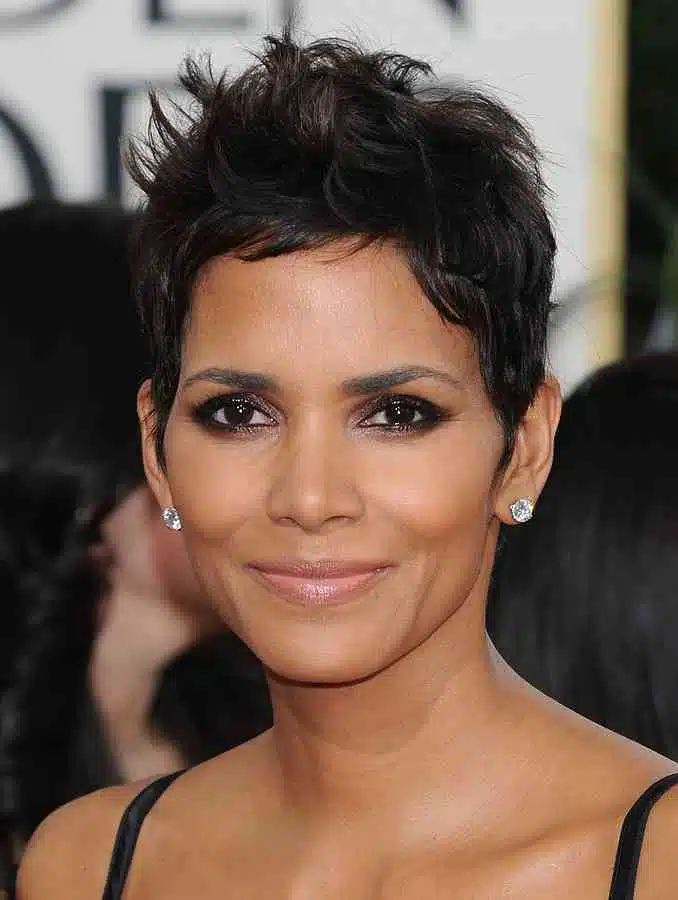 Women with fine hair also benefit from short hairstyles as it makes their hair appear thicker.
Short haircut styles vary from a short bob to pixie cuts or even a buzz cut. One of the best short hairstyles for women is the classic bob.
It is versatile and easy to maintain, making it perfect for busy women over 50 who do not want to spend too much time on their hair.
Another popular short hairstyle for women over 50 is the pixie cut. This style has been around since Audrey Hepburn debuted it in Roman Holiday and continues to be fashionable today.
Pixie cuts come in different lengths, so there's one out there suitable for most face shapes.
One way to add some interest to your pixie cut is by adding short bangs at the front of your head which can help frame your face better while drawing attention away from any wrinkles or lines you may feel self-conscious about.
If you're considering a more extreme change such as cutting all of your long hair off into a shorter style, then consider consulting with an experienced hairstylist first.
Typically, when deciding on how much hair you should chop off you'll want enough left on top so that when styling products are applied (such as mousse), it helps keep your hair looking thick and full-bodied rather than flat or lifeless.
Short bob haircuts also work perfectly well for older women with fine hairs because they provide volume where necessary without weighing down her strands.
This look will give them confidence due its sassy appearance: sharp angles at either end create edge across sections while feathered layers add movement through thinned-out areas toward ends ensuring versatility meaning ladies can dress up anytime!
In conclusion, there's no reason why older ladies or women of any age cannot rock short haircuts. Short hairstyles for over 50 can still be stylish and trendy.
The key is to find the right style that works best with your face shape, head structure, and texture of hair to get a short hairstyle that suits you perfectly.