The Rise Of Static Caravans With The Over 50's
Static caravans – one of the UK's most quaint, simpler and relaxed kind of residences.
Whether you own it and rent it out over the holidays or you cheekily live in the park full time (for the most part), they have become increasingly popular with over 50's over the years with some parks even being exclusively for that age bracket.
Living in a static caravan park offers many perks and benefits. However, there are also potential downfalls to consider. Prospective residents should be aware of these before making a decision.
Sense of community
One of the main advantages of living in one of these is the sense of community that it offers. Many parks have a friendly, welcoming atmosphere, and residents often form strong bonds with one another.
This can be particularly important for older people who may be looking for companionship and social interactions or events.
Did someone say Bingo Disco?
Many parks across the UK offer social activities and events, such as bingo or disco nights. If you prefer less adventurous activities, they offer coffee and cake mornings. This is to engage residents and help them make new connections.
Accessibility
Everyone has their own needs and abilities, and a perk of the parks is that they can offer a range of amenities and facilities that can make life more comfortable and enjoyable within a very small distance.
Kind of like being in a mall but even smaller in some cases! You have your restaurants, pubs, leisure facilities such as pools and nik nak shops all on your doorstep (quite literally).
Affordability
Another benefit of living in a static caravan park is the affordability. Compared to traditional homes or apartments, they are often significantly cheaper to purchase and maintain.
This can be particularly appealing for those on a fixed income, such as retirees.
According to the website Park Home Living, the average cost of a static caravan in the UK is around £60,000, while the average cost of a traditional home is over £250,000.
The cost of living in a static caravan park varies due to several factors. These include the location of the park, the size, and the condition of the caravan. All sites differ so be sure to look into each different ones standard or median fees.
The Cons Of Caravan Life
Now, although they are many pros, it wouldn't be fair not to add in the few cons. Here are some of the potential downsides to living in one of these tranquil areas.
The parks although beautiful and in lovely rural areas, can be quite isolated. And although OK for some people others may find it difficult in an isolated location,
Then unfortunately, while static caravans are often cheaper to maintain than traditional homes, there can still be unexpected costs associated with upkeep and repairs.
What are some popular parks you ask?
There are so many parks across the UK we could go on for hours and hours, but instead we have just taken a snippet of a couple of the parks which have some extra touches that make it just that little bit more special or stand out ish.
One park that is particularly popular Wyldecrest Parks, which isn't a singular park but actually has different locations all across the UK.
The park is well known for it's fishing lakes, so if you are a keen fisher or would like to get started on the hobby this would be a perfect place to get your rod out!
They also have the luxury of a swimming pool and little shops. They also pride themselves on their strong sense of community, with regular events and activities for residents.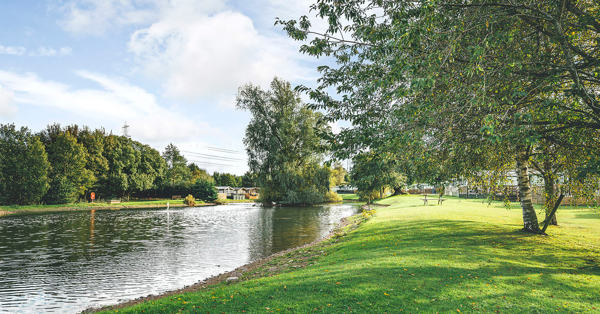 The second popular park we have cherry picked out is the Riverside Holiday Park in Northumberland. This park, which is open all year-round, offers stunning views of the River Coquet and has a wide range of on-site facilities, including a bar for those who like a tipple and a well-reviewed restaurant for those with hungry bellies.
Then after you've had a drink and a bite why not go down to their gym and sauna. The park also is known for offering a wide range of social activities and events, such as quiz nights and craft sessions.
So why are they so popular with over 50's?
Driving the trend towards static caravan living among over 50's is the desire for a simpler, more relaxed lifestyle.
Many people within this age group are looking to downsize and simplify their lives, and static caravans offer a way to do this without sacrificing comfort or convenience.
Another point to consider is that some people enjoy downsizing or moving to a caravan as they may not need the space and maintenance and the demands of a large traditional family home or even the upkeep of their houses and gardens.
However, they still want to live in a comfortable and well-equipped environment.
Additionally, for some people, living in one of these countryside gems can provide a sense of security and peace of mind.
Many parks have on-site security measures, such as CCTV and gated entrances, which can help residents feel safe and protected.
Also, even if you haven't made a solid group of friends at the site yet, the close-knit community that often develops in static caravan parks can provide a sense of support and reassurance so you will be looked after!
However, it is important for prospective residents to carefully consider the potential downsides before making a decision.
For example, while the affordability can be appealing, residents may find themselves facing unexpected costs for maintenance and repairs. Additionally, the remote locations of many parks can make it difficult to access essential services, such as healthcare and groceries.
Another important factor that prospective residents should consider is static caravan insurance.
Like traditional homes, it is important to ensure that your static caravan is properly insured to protect against unexpected events such as damage, theft, or fire.
Many insurance providers offer policies specifically designed for static caravans, and it is important to carefully review these policies to ensure that they provide adequate coverage.
In addition to covering the caravan itself, insurance policies may also provide coverage for personal possessions and liability protection.
Some places may require residents to have insurance in place before they are allowed to move in. This is because the park itself may have insurance that covers the common areas and facilities, but residents are responsible for insuring their individual residences and possessions.
The most important factors that can affect the cost of insurance include the age and condition, the location of the park, and the level of coverage needed.
By properly insuring your little haven, you can help protect your investment and enjoy peace of mind knowing that you are prepared for unexpected events.
Overall, the rise of over 50's living in static caravan parks reflects a growing desire for a simpler and more relaxed lifestyle.
With all the perks that you get at a static carvan park, from shops, swimming pools and security to friends, fun and fields to roam, it is easy to see why so many people are choosing to make this lifestyle change.
However, prospective residents should carefully consider the potential drawbacks of living in a static caravan park before making a decision, to ensure that it is the right choice for them.