Finding The Best Dating Sites for Over 50
So you've reached your 50s and decided to throw yourself back into dating again.
Now you're looking for the best over 50s Dating Sites that might work for you.
There has probably never been a better time to find love online.
Singles over 50 have tons of options to explore these days with the plethora of online dating sites.
We are over 50's ourselves, so our article will help you find your perfect match, by reviewing the best dating sites for over 50s, based on our own combined experiences!
There are more middle-aged people on dating sites now than ever before, so it's not something you should be worried about doing at all.
So What Are The Best Dating Sites For Over 50s
If you want to get back into the dating pool, here are some of the best over 50s dating sites you can consider joining!
1. Senior Match Over 50s Dating Site
For baby boomers and seniors, Senior match is one of the most successful and largest dating sites for us middle aged people!
SeniorMatch.com has been designed exclusively for singles aged 50 and above, who are seeking either romance or friendship.
In order to maintain a consistent age range, only members over the age of 45 are permitted to join. This senior dating site has successfully connected over a million mature singles worldwide, with 6,000 active members daily and a staggering 1.6 million monthly conversations.
It has accumulated a wealth of positive reviews and success stories, earning a high user rating of 4.5 out of 5.
As a result, they are able to maintain a consistent age range that caters specifically to mature members who are looking for online dating.
Your long-term partner may have passed away or you may just have broken up with them. Perhaps you have been without someone special in your life for quite some time.
No matter what your life story is, they can help you find that special someone, whether it's for a casual fling or a long-term relationship.
You can meet activity partners, travel companions, a new friend, your dream lover or your soulmate on SeniorMatch.com.
Pros and Cons of SeniorMatch.com
Like any online platform, SeniorMatch.com has its own set of advantages and disadvantages.
Pros:
Consistent age range, facilitating mature individuals to find companionship.
Sophisticated matching algorithm to increase compatibility.
Numerous features to enhance user experience.
Cons:
The cost of membership can be relatively high.
2. Eharmony Dating Site For People Over 50
If you've ever watched TV or been on the internet then you can't have missed eHarmony.
We have to include it as one of the best over 50s dating sites. What you get here is a quality site that really goes out of its way to get you good matches.
It's a site that's only for people who are seeking out serious relationships, so it's best to make sure that you're sure about getting back into the dating world first.
It provides a more mature dating option for those over 50.
Pros of eHarmony
Large User Base: eHarmony is home to millions of users worldwide, offering a vast dating pool for the over 50s.
Reputation: eHarmony is a trusted dating platform, as evidenced by its top place in a 2020 survey of dating apps.
Success Rate: eHarmony prides itself on its high success rate, attributing this to its high-quality dating pool and innovative matchmaking algorithm.
User-Friendly: Both the eHarmony site and app are user-friendly, making it an ideal choice for those who may not be as tech-savvy.
Cons of eHarmony
Limited Free Trial: eHarmony's free trial is quite restrictive, with many features only accessible to paying members.
Cost: Compared to other dating sites, eHarmony is on the pricier side.
Not for Casual Dating: eHarmony is primarily designed for those seeking long-term relationships, making it unsuitable for those interested in casual dating or hook-ups.
3. Silver Singles Online Dating
Speaking to others over 50 who have used Silver Singles, their feedback is generally good.  They found the site to be convenient and easy to navigate.
It is among the most popular dating sites for men and women over 50.
The signing-up process was actually simple and pretty efficient, with plenty of information about potential matches, immediately available.
The in-depth personality test, similar to other over 50s dating sites, was a bonus that matched them well with like-minded individuals.
The Best of The Rest – Best Over 50s Dating Sites
4. Our Time – Good For Over 50s Fifties Dating
Our Time is a site that's all about mature dating and nothing else.
The site has over 7 million users, so your chances here are very good. You'll get a display of available people over the age of 50 who also happen to be right in your area.
It makes it very easy to meet up with anyone you think might be a good match to spend some time with.
Match Dating For Older Adults
Just because other people are ready for a serious relationship doesn't mean that you are. That's where Match comes in.
This site lets you seek out other people who are looking for something casual or serious. It's up to you and what you want to get out of it.
If you like to have control over the dating site that you're using then this is one of the best that you can use.
5. Christian Mingle
If you want to meet someone who shares your faith then the first stop you want to make is at Christian Mingle.
Dating can be difficult when you don't know the belief system of the person you're talking to, so it makes sense to make it easy on yourself.
You'll get matches in your area who all share your beliefs so you don't end up disappointed.
6. Senior Friend Finder
Senior Friend Finder is mostly for people over the age of 60, but there are still plenty of people in their 50s on the site.
It's open to anyone who wants to use it and it's filled with people who want to meet new friends.
You can look for something serious or casual; it's always up to you.
Give it a shot with the free version and you might just decide that this is the best site for you.
7. Millionaire Match For Over 50s Dating
When it comes to making sure you're getting in touch with people who have led similar lives to you then you can't go wrong with Millionaire Match.
You don't have to be exceedingly wealthy to use it. It's mostly filled with lawyers and doctors who have spent their lives saving for their retirements.
The best thing about it is that the site actually certifies its members so you always know what you're getting into.
So the above are some of the best dating sites for over 50
Now you've considered the best over 50s dating sites, getting into a relationship in your 50s has a lot to offer and you can't underestimate how much of an effect that's going to have on you.
No matter how old you get, there's always a big chance that you're going to get thrust back into the dating world.
It really doesn't matter how long you spent out of it.
You could find yourself right back in the middle of it and you'll have to figure out how to navigate the whole thing, which will likely be a challenge.
Luckily for you, dating over 50 can be a lot more enjoyable than dating under it.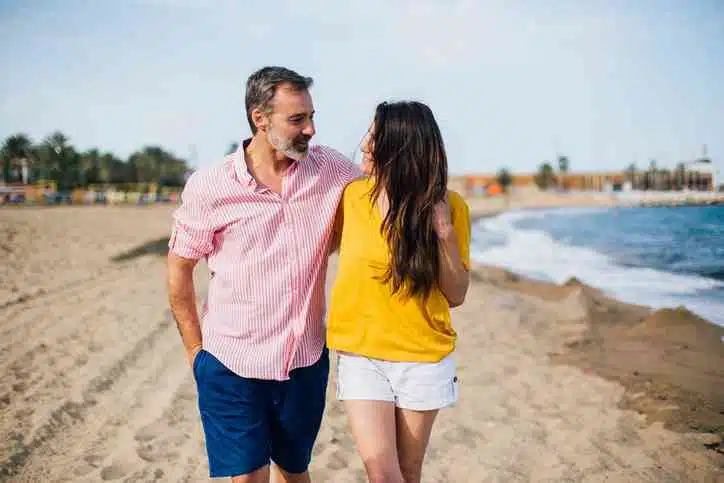 There are more than enough options with the Best Dating Sites for Over 50.
When the person that you're dating has already figured a few things out then you can really focus on getting to know each other and growing your relationship.
It leads to a much more fulfilling experience than you could have gotten at any other point in your life.
That's really just one of the ways that dating over the age of 50 is going to be a lot easier than you might be thinking it is.
Everyone is always on time
One of the biggest things that you can look forward to is your partner always being on time whenever you're supposed to meet up with them. You'll never have to deal with wondering if you got stood up ever again.
You can rely on them to be there when they're supposed to be there and you're never going to realize how happy that makes you until you experience it.
You can actually set plans and stick to them and most people never get a chance to see what that's like.
You just have to realize that dating someone is going to be a major part of someone's life when they're over the age of 50.
Setting up a time to get together isn't just going to be a suggestion for them.
When they say they can be there at a specific time, they're going to be sure of it and they're going to make sure that it happens.
That also means that you have to show them the same level of commitment.
If you're used to simply showing up whenever you want then you might not find yourself enjoying many second dates with anyone.
Their families will be warm to you
It doesn't matter what your dating life used to be like. You could have been the type of person to only bring people home that your parents would have objected to.
You could have also been the kind of person that received the objections.
None of that really matter anymore. The family that you're going to be meeting is going to be totally different at this point in your life.
Anyone that you meet is going to be very warm and very inviting to you. It also doesn't matter what your date's family looks like.
That's' because they really want the person that you're dating to be as happy as possible and they're not going to let anything stand in the way of that.
When you meet the family, you can relax and enjoy your time with them.
You don't have to impress them or make them accept you. You can just be yourself and they'll come over to impress you.
There's less jealousy
Finally, you can expect much less jealousy from the person you're dating. There's just no time for it anymore.
There's no reason to be jealous of anyone else when they're with you. They can focus on you and only you. Jealousy is something that you grow to realize isn't worth your time. If you didn't want to be with the person that you're with then you wouldn't be. It's really that simple.
You can go ahead with your relationship and you'll never have to deal with any kind of jealousy ever again. Of course, that also means you'll feel less jealousy for yourself.
You'll realize that you can trust the person you're dating and not have to worry about anything that happens to be going on.
Here are Our top Tips For Dating Over 50
1.1 Defining your Relationship Goals
Whether you're looking for companionship, a serious relationship, or just casual dating, it's important to clarify what you want from dating. This can guide your approach and help you communicate your intentions to potential partners.
1.2 Recognising Your Deal Breakers
Everyone has their deal breakers.
Maybe it's smoking, a poor sense of humour, or lack of ambition. Identifying these early on can help you avoid potential pitfalls and ensure you're investing your time wisely.
2. Embracing Online Dating
In the digital age, online dating is a key way to meet new people. Despite its reputation as a platform for younger people, over 50s can benefit hugely from online dating. Don't shy away from this opportunity.
2.2 Creating an Honest Profile
Your online dating profile is your first impression to potential matches. Be truthful in describing yourself and what you're looking for.
A recent profile picture and a description that reflects your personality will attract genuinely interested people.
3. Dressing for Success
First impressions matter and dressing well can boost your confidence. Investing in a wardrobe makeover or seeking fashion advice from a trusted friend can make a significant difference.
Remember, your clothes should reflect who you are, so choose outfits that make you feel comfortable and confident.
4. Practising Safe Dating
Dating safely is a priority, especially when meeting someone for the first time. Arrange initial meetings in public places, inform a friend about your date, and always trust your instincts. If you're venturing into online dating, remember to vet your potential dates before meeting in person.
5. Keeping an Open Mind
One key to successful dating over 50 is keeping an open mind. You might have a specific type in mind, but being open to new people can lead to unexpected connections.
Don't dismiss potential partners based on initial impressions. Instead, give them a chance to show who they are.
6. Respecting Your Boundaries
It's essential to set boundaries and communicate them clearly.
This could include how much time you spend together, your comfort levels with physical intimacy, or how you handle discussions about past relationships.
Remember, a healthy relationship respects both partners' boundaries.
7. Dealing with Rejection
Rejection is a part of dating. It's important not to take it personally.
Whether someone isn't interested in a second date or doesn't respond to your messages, remember that everyone has their preferences, and it doesn't reflect your worth.
8. Not Rushing into Things
There's no need to rush into a relationship or make quick judgements about potential partners.
Take your time to get to know someone and let the relationship develop naturally. Remember, it's about the journey, not the destination.
9. Being Proactive
Dating requires effort and initiative. If you're serious about finding a partner, be proactive in contacting potential matches, planning dates, and showing interest.
Remember, good things come to those who pursue them.
10. Having Fun
Last but not least, have fun! Dating is an opportunity to meet new people, experience different things, and potentially find love. So go out, explore, and enjoy the adventure.
Dating after 50 can be a wonderful journey full of exciting opportunities.
By understanding your expectations, embracing online dating, dressing for success, practising safe dating, keeping an open mind, respecting your boundaries, dealing with rejection, not rushing into things, being proactive, and having fun, you can navigate the dating world confidently and successfully.
The Best Dating Sites for Over 50 Exist For You
The age of digital romance is no longer confined to the youth. In fact, singles over 50 are increasingly diving into the online dating world, eager to discover a renewed sense of passion and connection.
Whether it's for finding a casual friend or seeking a serious relationship, the best dating sites for seniors are reshaping the way the 50s demographic finds love.
Why Online Dating Works for the 50s Crowd
The digital age has revamped the way online dating works. For people over 50, this can be a boon.
Rather than navigating the traditional dating scene, senior singles can now find matches tailored to their preferences with a simple click.
The breadth of dating apps and websites means there's a platform suited for every individual. Some might opt for niche dating apps for seniors, while others might choose broader platform.
Tips for dating sites for seniors
When you are looking for the Best Dating Sites for Over 50, safety should never be compromised. Here are some tips for dating safely:
Opt for a reputable dating site.
Keep personal details private until trust is established.
Always meet in public places during the initial dates.
Listen to your intuition; if something feels off, it probably is.
Best Dating Apps Tailored for Seniors
Not to be outdone by websites, dating apps for seniors have also gained traction. These mobile platforms provide the convenience of swiping and connecting on the go.
Apps like ElderSwipe and SeniorGlow are setting the bar high in the app for people category, ensuring that senior singles have a plethora of choices at their fingertips.
Frequently Asked Questions About Online Dating For Over 50s
1. What are the best dating sites for over 50?
If you're over 50 and looking for love, many dating sites are available to cater to your needs. We think we have included the best dating sites in our article above.
2. How do I create a compelling dating profile?
Creating an attractive dating profile is essential to stand out among other daters over 50. Here are some tips from dating experts to create a captivating dating profile:
Be honest and genuine about yourself.
Highlight your interests, hobbies, and passions.
Add some recent and attractive photos.
Write a unique and creative bio.
3. Can I find free dating sites for over 50?
Yes, there are free dating sites available for people over 50 to find potential partners. Meeting Hearts not only offers a free membership option but also has a great reputation as a trusted and reliable dating site.
4. Are there any dating apps for over 50?
Absolutely! With the rising popularity of online dating, there are now various dating apps specifically designed for individuals over 50. Some of the best online dating apps for over 50 include Love Connect and Silver Singles. These apps are user-friendly and provide a great online dating experience.
5. How can a dating coach help me with online dating?
A dating coach can provide valuable guidance and support throughout your online dating journey.
They can provide tips for dating over 50, help you craft an appealing profile, provide advice on communication and flirting, and boost your confidence in the online dating world.
6. Is online dating only for serious relationships?
No, online dating is suitable for both serious relationships and casual dating. Whether you're looking for a committed relationship or just companionship, you can find like-minded individuals through online dating sites and apps.
Navigating the World of Online Dating in Your 50s
Online dating for the over 50s is not a challenge but an opportunity.
It's a chance to rediscover oneself, forge meaningful connections, and maybe, just maybe, find that special someone who shares your zest for life even in the golden years.
With the myriad of senior dating platforms available, there's no reason not to take a chance on love once more.
Whether you're exploring a dating app or signing up on a dating site for people over 50, the digital age ensures that love knows no age limits.
How Best Senior Dating Sites Help With Finding Romance
While some of the old apprehensions about online dating might still be around, these days, more and more middle-aged people are finding love through the power of the internet.
In fact, over 40% of new relationships now begin online, which probably explains why dating for the over 50's has become such a popular phenomenon over the past decade.
Also, the emergence of dating sites which cater specifically for the over 50s, has been a great boost for people like us.
We have a full review of the best over 50 dating sites here
As you age, your dating pool becomes smaller and smaller.
That's the way of life and why it's important to pick up some dating advice.
Steps You Can Take To Improve Your Chances Of Finding Romance
Luckily, there are many things that you can do to improve your chances of finding a romantic partner.
First of, if possible, try your best to be as physically fit as you can. That will give you added confidence and you will feel more self-assured.
The importance of making yourself feel more confident
You probably don't particularly want to date someone who comes across as extremely insecure or painfully shy around people. So that's why it pays for you to exude a little confidence too.
Having a little confidence in yourself, boosts your attractiveness to others.
Also, be selective with who you date. Don't go out with people randomly just because they're available. Hold yourself to high standards and make sure that the person is worth your time and energy.
The Changing Landscape of Dating Over 50s
Most newcomers to the world of over-fifties online dating have the same apprehensions about dipping their toes into the proverbial dating pool, as their younger counterparts.
Questions such as "will I like what I find on a dating site?" and "will people look at me differently for looking for love online" are usually some of the first concerns you might have.
However don't worry, the dating scene has changed significantly over the past 20 years, and dating for people over 50 is actually not much different than it is for younger people.
Whether you're looking for a serious relationship or something more casual, there is probably a mature partner waiting somewhere out there for you.
A convenient and effective alternative to meet people who share your interests and values is through the dating apps and websites, which are growing in popularity.
Don't be intimidated by technology – many of best dating sites, websites and apps target the over-50s market specifically, which makes it easier than ever to find a compatible match.
Don't Forget The Art of Flirting
If you're looking to improve your dating skills, the first thing you need to do is start by learning how to flirt.
Flirting is a skill and is very effective at getting people's attention and making them want to date you. There are a few things you can do to improve your flirting skills.
First, make sure you are wearing the appropriate clothing. It's important to dress in a way that shows off your personality and makes you look good.
You don't have to wear anything outrageous, but dressing in a way that makes you feel confident will help your flirting skills.
Be Playful And Fun To Be With
Be playful. When you're flirting with someone, it's important to be lighthearted and have fun. If you come across as serious or boring, the person won't want to date you.
Be spontaneous. Don't always stick to the same routine when it comes to dating. Be open to new ideas and try something new every once in a while.
This will show that you're interested in exploring new things and are not afraid of change.
What's To Be Expected When Dating Over 50
By the time you reach your 50s, you've likely encountered a range of emotional experiences, both good and bad.
This emotional maturity can be an asset in the dating world, as it enables you to communicate more effectively, empathize with others, and navigate the complexities of romantic relationships.
knowledge Is Power
The wisdom you have gained over the years will be invaluable.
In fact, you will probably find it a lot easier to navigate the world of romance as a 50-something.
At least compared to when you were in your twenties and probably rather naive and gullible in your romantic outlook!
The Role That Adult Children Play In Over Fifties Dating
Interestingly, according to research, what motivates middle-aged people to sign up for over 50s dating sites tends to stem from a place closer to home – their children.
Without the encouragement and support of their grown children, many prospective dating candidates would never have ventured into this unknown territory.
Very often it's adult children who encourage their older parents, who may be divorced or widowed, back into the dating market.
The Essentials of Your First Date
There are a few key things that you need to know if you're looking to go on a first date with someone.
Here are the essential things to remember:
Make sure you're both on the same page. Before you go out, make sure that both of you are targeting the same date and time. This way, neither of you will be left wondering what happened.
Have some common interests. On your first date, it's important to have something in common. This way, you'll feel more comfortable around each other and have a better chance of enjoying your time together.
Be honest and respectful. When dating, it's important to be honest and respectful of each other's feelings. This way, both of you will have a positive experience and won't get hurt in the future.
Age Is Just A Number
The time when being middle-aged made it difficult to find love, is pretty much gone. Over-50s dating is nothing to be embarrassed about these days
Substantial age gaps between partners is also now more commonly accepted in society. Many people realize that age is simply just another factor in terms of compatibility and love.
So when seeking out the best dating and possible companions, embrace your age and the wisdom it gives!
Embrace What Makes You Different
With more and more people of all age groups, backgrounds and creeds joining the online dating pool, it is getting easier for like-minded people to find each other and stand the chance of igniting a romantic spark.
What makes you unique, also can make you more interesting to potential partners.
So don't make your profile too boring. Don't be afraid to let people know your varied interests….even if they seem a little quirky.
That individuality is what will often stand out to potential romantic partners.
Try To Be Honest With Potential Partners On Dating Sites
Transparency and honesty are important when it comes to dating in your 50s.
While you don't need to divulge every detail of your past, it's advisable to be upfront about significant life events, such as previous marriages or children.
When surveyed, both men and women admitted to "tweaking" the numbers regarding their age, in an attempt to appear younger.
RELATED
In Praise Of Middle-Aged Singledom
However, if your relationship does develop into a more meaningful one, this will only come back to bite you. So do try to be honest.
This openness helps establish trust and prevents any potential misunderstandings further down the line.
Be sure to share details about yourself, but be careful about revealing too much personal information in your profile.
Why dating can be a bit different when you are in your 50s
While those taking part in over-50s dating are joining millions of younger hopefuls in the search for love, they are very unique in their own right.
For one thing, when surveyed, most individuals over 50s stated that they were looking for "companionship", rather than something more romantic.
Most mature dating people tend to have a more realistic view of love and romance, than younger, slightly more immature, 'romantics'
Although having said that, when romance comes knocking, it's often as easy for us, middle-aged people, to be swept off our feet as well!
Furthermore, people in their 50's tend to come with their own 'baggage' – family units, ex-spouses and elderly parents, which add to the complexity of their personal situations.
One common challenge for over 50s dating, is finding a balance between your romantic relationship and your family obligations.
This may involve coordinating schedules, managing expectations, and navigating the complexities of blended families.
Be open with your partner about your family commitments and work together to find a solution that meets everyone's needs.
Finally, Take Your Time With Over Fifties Dating
One of the most common complaints of men and women in the world of 50s dating, is that the other party attempted to become too serious, too fast.
There's no need to rush when it comes to dating in your 50s.
Allow yourself the time and space to get to know potential partners truly, and don't feel pressured to commit to a relationship before you're ready.
Taking things slowly can help you build a solid foundation and ensure that you're making the right decision for your long-term happiness.
Don't forget to stay positive and optimistic. Despite all of the challenges that age brings, there are still plenty of great opportunities out there for those who are willing to look for them.
So don't be afraid to go out and socialize as well; it will only make your life more enjoyable in the long run!
Dating can be a complicated, yet exhilarating 'pastime', and the internet is simply bringing the best dating site and pool right to each and everyone's door.
Currently, there is a £3.4 billion dating industry being fuelled by those looking for love online and those over fifty should log on soon and jump into the world of over 50s dating online. Good Luck!
Some Of The Most Popular Over 50's Dating Questions
Is it harder to date after 50?
Dating at the age of fifty is probably not the total fun that was when you were younger. No matter what age you are, it is difficult to take risks to be rejected.
The middle-aged, who have perhaps suffered a bitter divorce or even a bereavement may find that they are more emotionally vulnerable.
Is 55 too old to start Using A Dating Site?
Getting together with people over 50 can sometimes be a bit difficult, than it was when you were younger. However, as they say, it's never late to find love and many over the 50s can and do,
How do I find a partner in my 50s?
You can use a range of ways to find a partner when you are in your 50s. For example, you can join an online dating website.
Online dating sites can often make it easier to meet a potential mate.
However, if online dating isn't your thing, find a hobby, like perhaps a local walking group and make friends first.
Is 55 too old to start Using A Dating Site?
Absolutely not! Age is just a number, and 55 is definitely not too old to start using a dating site.
In fact, it's the perfect time to explore new possibilities and meet like-minded individuals.
Dating sites cater to people of all ages, including those over 50.
It's a fantastic opportunity to connect with others who are also looking for companionship or a meaningful relationship.
Plus, with technological advancements, dating sites have become extremely user-friendly and offer a range of features to help you find your perfect match.
So, don't let age hold you back – embrace the digital age and embark on a new dating adventure!
Who knows what friendship can lead to!