Craft The Perfect Profile – Woman Over 50 Dating profile Examples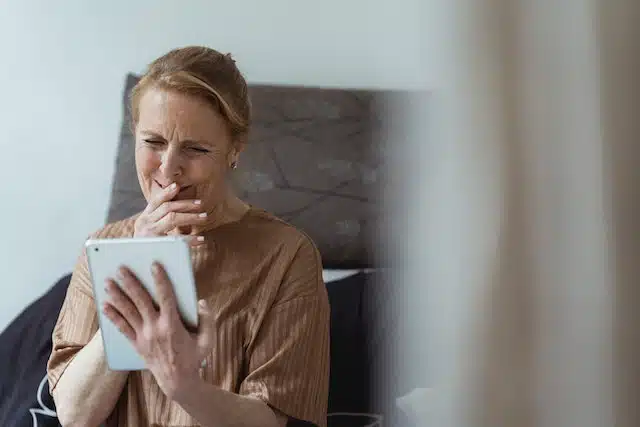 The dating scene can be intimidating; that's especially true for women over 50. That's where our woman Over 50 dating profile examples can really assist.
However, the world of online dating offers plenty of opportunities to find love, companionship, and meaningful connections, irrespective of age. So get your woman over 50 dating profile right.
After all, why should young people get all the fun!
So don't be afraid to jump into the world of online dating. You'll be surprised at how much fun you can have, chatting to people…. irrespective of what age you are.
Of course, that can bring with it some additional stress, as inevitably you will be forced to create an online profile, to attract a potential partner.
In this article, I will give you some good tips for writing a powerful profile for a woman over 50 and give you some dating profile examples to use as inspiration.
Firstly – Be Authentic In Your Dating Profile
By being authentic through your bio description, it will almost always lead to better results with potential matches.
When the time comes to meet, there won't be any hidden shocks waiting down the road ahead.
You wouldn't want the person you meet to be completely different from what they have portrayed themselves as. So make sure you are honest too.
Remember when online dating, be very wary of falling victim to a romance scammer
Important Elements of Online Dating Profiles For Over 50 Women
When crafting woman over 50 dating profile examples, there are several key elements to consider:
Profile Pictures For A Woman Over Fifty
Choose a clear, high-quality photo that shows off your best features and reflects your personality
Avoid overly edited or filtered images of recent photos, as they can appear disingenuous. Don't be ashamed of your age and don't try to disguise it.
We've reviewed some of the best over 50s dating sites here.
At some point, you'll probably meet someone in person from the big dating sites, like eg Silver Singles.
So if you have posted a picture of you taken 15 years ago, that will end up in anxiety when the time comes to meet up!
Woman Over 50 Dating Profile Examples
Check out these good online dating profiles to copy for females
Example 1: Adventurous and Active
Headline: "Seeking a travel partner, for life's greatest adventures!"
About Me: I'm a woman who loves to explore the great outdoors, whether it's hiking in the mountains, biking along the coast, or kayaking in a tranquil lake.
I believe that life's too short to stay indoors, and I'm always seeking new ways to stay active and connect with nature.
When I'm not exploring, I enjoy volunteering for local environmental causes and spending time with my two golden retrievers.
Looking for: A like-minded adventurer who values health, family oriented fitness, the love animals, and the environment. Someone who can share both laughter and deep conversations as we discover new places same things, and experiences together.
Example 2: Passionate and Creative
Headline: "Creative soul searching for my artistic partner-in-crime!"
About Me: I'm a woman with a passion for the arts, whether it's painting, sculpting, or dancing. My weekends are often spent attending gallery openings or taking a pottery class to hone my skills.
I also find solace in writing poetry and find that it helps me express my innermost thoughts and feelings. I'm proud to say that I've even had a few pieces published!
Looking for: Someone who appreciates the beauty in life and is open to exploring their creative side. A partner who can share in my artistic passions and an ideal partner who isn't afraid to get their hands dirty in the pursuit of self-expression.
Example 3: Kind and Compassionate
Headline: "Compassionate heart seeking a loving connection"
About Me: I am a woman who believes that kindness and empathy are the foundations of any strong and meaningful relationship ever. I have dedicated my career to helping others, working as a nurse for over 25 years.
In my spare time, I enjoy cooking delicious meals for my loved ones, curling up with a good book, watching movies, and volunteering at a local animal shelter.
Looking for: A kind-hearted and caring partner who values emotional connection and a long term committed relationship and is willing to be a source of support and understanding. Someone who enjoys quiet evenings at home and the simple pleasures of life.
Example 4: 'Overweight' dating profile
Headline: Hi there, my name is Mary and I'm a 55-year-old woman who is confident in her skin!
About Me: Being a little overweight has never held me back from enjoying life's beautiful things, but as for finding love, well that's why I'm here!
I am passionate about meeting someone with similar qualities like honesty, kindness & warm-heartedness. Someone to share memories with – both small and big. In my free time you can find me gardening, cooking up a storm or curling up with a nice book next to the fireplace.
When it comes to physical activities despite being obese exercise through mild bits of walking helps me relax and escape from day-to-day stresses.
What I'm looking for: I value sincerity immensely over superficial attributes such as looks etc., hence what matters most to me within others are their inner-most core values which they display. So I'm not overly concerned with what you look like, I'm more concerned with what lies in your heart.
Example 5: Shy and first time using a dating site
About Me: I'm a shy, but warm-hearted and independent woman, of 53, who has never tried online dating before.
I enjoy reading, gardening and walking by the countryside during my free time. My favorite foods are Italian dishes and sushi.
I am searching for someone who shares similar interests with me; maybe someone who enjoys nature walks or quiet movie nights at home.
I'm not totally sure how online dating works, but it would be nice even if someone contacted me.
It would be lovely to have meaningful conversations over tea or coffee while listening to mellow music without feeling rushed. I'm a reserved person and I don't really like big crowds.
Who I am looking for: Life's experiences have taught me the importance of being kind-hearted, patient, honest and forgiving.
Therefore, these are traits that I also look for in a potential partner. Someone that isn't loud or brash, but enjoys the quieter things in life, like I do.
If you think we could hit it off on this journey called life together – let's talk!
Example 6: Christian Profile
About Me: Hi there! I'm Sarah, a single mom, a faithful and compassionate lady who values family and close relationships. I have been blessed with four grown-up children, three grandchildren, and they all bring so much joy in my life.
I am deeply rooted in my faith. Serving others brings me great satisfaction through volunteering at the church . Where I'm involved in several pastimes that allow me to make valuable contributions to the community through our beliefs.
In my free time, you will most likely find me lost in good books or tending to flowers while enjoying nature's beauty across the seasons and contemplating God's creation coupled with inspiration from His word.
Who I'm Looking For: looking for a man who shares my faith and values family as much as I do. Additionally, someone with a good sense of humor around serious matters to get through life's challenges and enjoy each other's company along the way.
A companion who cherishes building memories together fun loving, while respecting their partner's individuality, but sharing a love in God.
The Importance Of A Good Profile Headline
I hope you found the above 'Woman Over 50 Dating Profile Examples' useful. these can be useful for good online dating profiles to copy and paste.
Let's look at some pointers for creating your own successful dating profile. short dating profile bio examples female
Your profile headline should be catchy and engaging. It's your opportunity to make a strong first impression and entice potential matches to read more about you.
About Me Section
This is your chance to share your story, your passions, and your personality. Be genuine and open, and avoid clichés or generic statements, withwoman over 50 dating profile examples.
Don't be afraid to be quirky, as believe it or not, many men often like someone who is a little bit different.
Hobbies and Interests – woman over 50 dating profile examples
Sharing your hobbies and interests can help potential matches understand what you have in common and can help to create good conversation starters.
What You're Looking for in a Partner
Be clear about what you're seeking in a relationship and the qualities you value in a partner.
This can help you attract like-minded individuals who share your goals and desires. It can also avoid wasting time chatting with people who have totally different values from you.
How do you write a catchy dating profile?
When it comes to woman over 50 dating profile examples, writing a catchy profile for a dating site can be challenging, but here are some tips to make it easier:
Start with an attention-grabbing headline: Use the headline space of your dating profile to showcase what makes you unique and interesting.
Keep it light and upbeat : Try avoiding writing anything negative. Avoid profiles starting with "no"
Show don't tell : Instead of just stating generic adjectives in describing yourself ,try displaying examples that prove why!
Ask questions at end : A good way is sometimes to ask intriguing questions relating to something mentioned in your profile. That can often encourage people to respond to you and perhaps right a funny answer!
Dating Profile Tips In woman over 50 dating profile examples
Be Genuine and Authentic: Be true to yourself and let your personality shine through. Don't try to fit into a mold or pretend to be someone you're not.

Highlight Your Strengths: Emphasize your accomplishments, skills, and experiences that make you unique and interesting.

Be Positive and Optimistic: Focus on the positive aspects of your life and what you're looking forward to in the future.

Show, Don't Tell: Use specific examples and anecdotes to illustrate your personality and interests, rather than just stating them outright.
Don't Be Afraid to Be Unique: Embrace your quirks and individuality, as this can make your profile stand out from the crowd.
I hope you have found some of the above woman over 50 dating profile examples helpful
Understanding the Over 50 Dating Scene First
Challenges for Women Over 50
It's important to acknowledge the challenges that women over 50 may face when entering the dating scene.
These may include feelings of insecurity, uncertainty about how to navigate online dating, and concerns about age-related stereotypes.
That can sometimes lead to uncertainty when you are trying to use dating sites, and it's why exploring dating profile examples for women, can be extremely useful as guidance.
Why Are Profiles So Important On Dating Sites
when ti comes to woman over 50 dating profile examples, having an impressive profile on a dating platform is pretty crucial to finding the right match for you. It's surprising how many people write two (sometimes incoherent) sentences and then wonder why no one contacts them!
A catchy profile gives you the opportunity to showcase your personality, interests and goals, in such a way that you can stand out from the rest of the crowd on the dating app or site.
Your profile picture helps potential mates to see what you look like. It's a fact of life that men in particular are probably more concerned about a woman's looks than vice versa.
However, that's far from the whole story, especially when you are in your 50s.
Other details, such as your personality, qualifications, life story and hobbies, tend to be more important to middle-aged people, with woman over 50 dating profile examples.
Providing those details will help them to get a better insight into who you are beyond your physical appearance.
We all hear that first impressions matter – but you should ensure convey your true self and not what others want you to portray.
Creating a compelling and authentic dating profile as a woman over 50 is essential to attract the right kind of potential matches.
By following the tips and examples provided in this article, you'll be well on your way to crafting a profile that showcases your unique personality and interests, and helps you find a meaningful connection in the world of online dating.
It is easy to attract attention initially based on looks or appearance; as we all know.
However when it comes to forging a future solid relationship; genuine bonds will only form if your character traits provide deeper interconnected relationships.
Once superficial facades fade away, revealing people's true selves; only then will mutual alignment and compatibility be the only thing that truly matters
So it goes without saying that creating an honest online profile will be crucial in attracting someone who you really want to spend time with and hopefully pave the way for a lifelong partnership!
I will finish off by giving you some common sense tips to stay safe when you're meeting someone off a dating site:
1. Use a reputable dating site: Ensure that you use a trusted and well-known dating site and follow my dating profile tips too. Avoid using free sites that do not require authentication or verification.
2. Keep your personal information private: Never share any financial, personal, or sensitive information with someone online until you have met them in person and built trust.
3. Do some research on the person before meeting: A simple Google search of their name, phone number or email address may reveal if they have any social media accounts or any negative news reports.
4. Meet in public places: Arrange for the first meeting in a coffee shop, restaurant, museum, art gallery or park rather than at home or a private location.
5. Inform someone else before going out to start dating someone: Letting someone close to you know where you are going and when to expect you back can give you peace of mind if anything goes wrong during the date.
6. Stay sober and alert: Avoid drinking too much alcohol on the first date because it could impair judgment leaving one vulnerable to scammers & risky situations..
7. Trust your instincts : If something does not feel right about the other person's behavior such as being overly pushy for intimacy then leave decisively. Your Safety matters more !
Always remember, there is no rush into sharing sensitive details about oneself.. take time to know each other better slowly but surely over multiple dates .
Taking these precautions reduces risk and allows full enjoyment of discovering new relationships and put the woman over 50 dating profile examples to good use!