Nine Life Hacks Everyone with Diabetes Should Know About
Diabetes is a serious problem. In fact, the Diabetes Atlas reports that 10.5%of the adult population has diabetes, and almost half are unaware of their diagnosis.
This is particularly important if you have reached middle age, as the condition can often manifest itself… and is most prevalent around this age group.
This being said, regulating and managing diabetes can be extremely challenging without the right tools at your disposal.
Uncontrolled blood sugar levels can lead to serious health complications, including damage to your organs, nerves, and blood vessels.
So, how can you ensure you keep your diabetes diagnosis under control?
In this post, we'll explore nine life hacks everyone should know about. Please keep reading to find out what they are.
Plan and Prepare Your Meals
Planning and preparing meals ahead of time will help you stick to your diabetes diet. Stay away from processed foods and opt for fibre-rich fruits and veggies, lean protein, and healthy fats instead.
You can indulge in sugars and complex carbs but try to do so in moderation. You could ask a specialist to create a meal plan that is easy to follow.
Stash Juice Boxes Near Your Bed
Although room temperature juice boxes may not sound overly appetising, they can be a lifesaver in the middle of the night.
If you experience low blood sugar while you're sleepy, having a juice box by your bed is an effortless solution.
Plus, juice boxes don't need to be kept in the refrigerator before their expiry date, so it's a stress-free solution to a potential problem.
Keep Emergency Contact Info to Hand
No matter how prepared you may be, there's always a possibility that something may go wrong. Therefore, you must always keep your emergency contact information to hand.
When you list someone as your emergency contact, make sure to let them know beforehand.
If you're unsure of how to carry your emergency contact information around, we suggest that you print out some business cards to keep in your purse or wallet.
Alternatively, you could use the emergency contact app setting found on iPhones.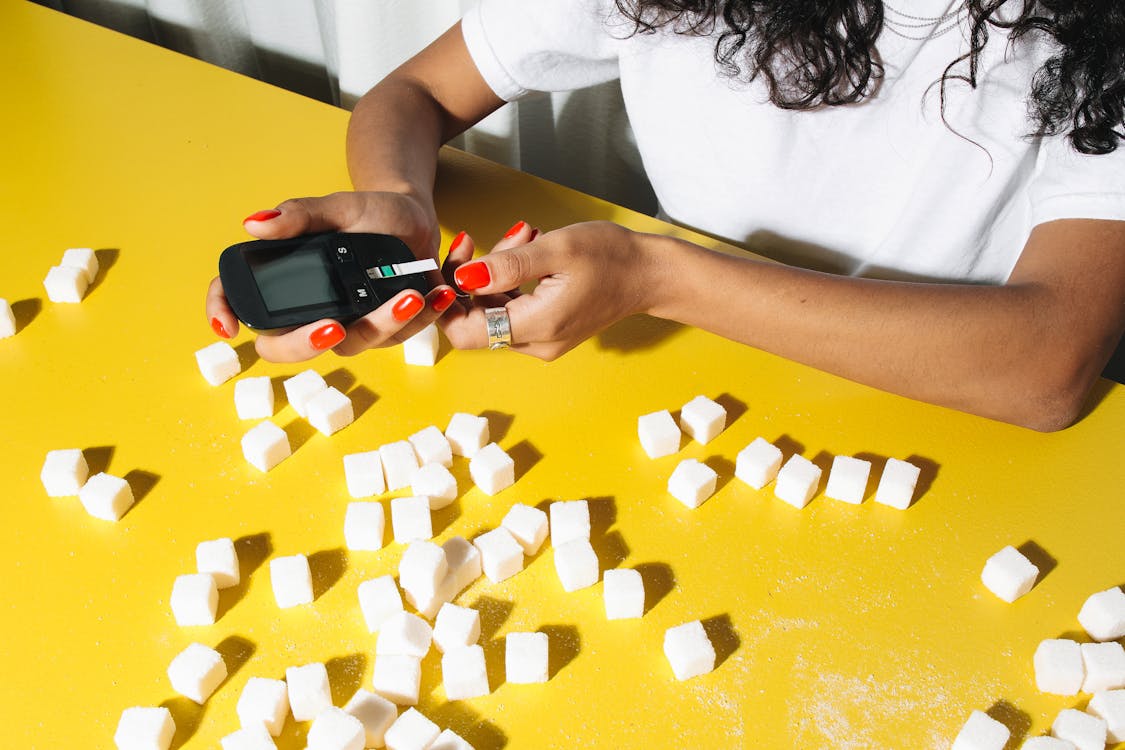 Carry Healthy Snacks
If you're feeling peckish, it's always a great idea to have some healthy snacks to hand. We recommend items like Greek yoghurt, fresh fruit, raw vegetables, nuts or seeds.
This will help stabilise blood sugar levels between meals. You should also check out what pre-packaged snacks are available at your local supermarket.
This may include items like wholegrain crackers, salted popcorn, and good-old fashioned cereal bars.
Make Use of the Latest Technology
Thankfully, there are many advances in technology, like the FreeStyle Libre, that help diabetics keep blood glucose levels under control.
However, as with any medical device, there are some potential disadvantages. For example, you need to be aware of potential false low readings with FreeStyle Libre.
Prioritise Your Sleep and Stay Hydrated
You can help manage your blood sugar levels more effectively by ensuring you get enough sleep and drink plenty of water.
Make sure to drink plenty of fluids. However, you should avoid drinking sugary or caffeinated beverages.
Dehydration can lead to elevated blood sugars and sleeping around 7 to 9 hours each night also supports glucose control.
Pack a Diabetes Travel Bag
No matter how often you travel or how well you plan, you never know when you may encounter a medical emergency.
When you're going to be away from home, it's important to have a packed "to go" bag ready to grab on your way out.
This should include items like infusion sets, extra testing supplies, spare batteries, and healthy snacks. You should also research what medical facilities are available nearby when you settle into your accommodation or hotel.
Carry Your Medical ID and Prescription
When you travel make sure to pack your most essential items in your carry on in case it gets lost. If you happen to misplace your meds, you'll need to get them replaced asap.
The easiest way to avoid any issues is to bring your medical ID, a letter from your doctor that explains your condition, and a paper copy of your prescription.
Get Through Airport Security Easily
Airport security can be stressful, so if you want your experience to be slightly easier, we recommend you let the staff know about your medical condition.
You simply need to tell them that you have diabetes and that you are carrying your medical supply.
Make sure to bring your prescription and keep your kit in a separate bag. This will avoid unnecessary inspections and delays.
Not only are these tips designed to make your life easier, but they also have the potential to save you in a life-threatening situation.
Diabetes is a serious condition which causes millions of deaths a year. Therefore, learning how to keep blood sugar levels under control is of the essence.
Hopefully these tips and tricks help make a diabetes diagnosis all the easier.