Your Guide To Choosing Mother Of The Bride Outfits For Over 50s
Choosing a Mother of the Bride Outfit for Over 50s
Choosing a mother-of-the-bride outfit for over 50's can be tough because there are so many things you need to consider.
On the most important day of your daughter's life, you'll want to pick something timeless.
Something that you'll be able to see in photographs for years to come and will bring a smile to your face.
The good news is that many UK stores offer wonderful outfits to suit all budgets.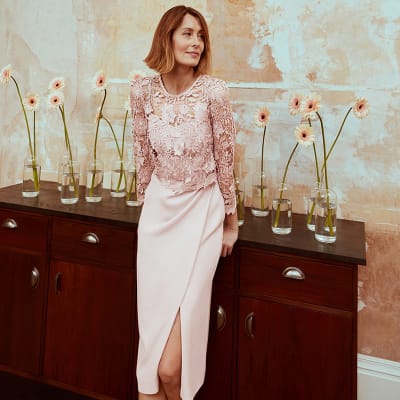 So with this in mind, here's a guide to picking out a memorable piece for that special day – while taking all those important factors into account.
1. Ask Yourself Important Questions About Potential Outfits
Before you can even begin the search for an outfit, there are some questions you'll want to ask yourself.
Firstly, is there "one specific" type of outfit you should be looking for? The short answer is no.
While mothers of the bride have traditionally (at least in the past decade) worn a dress and jacket paired with an ornamental hat, these are not the only options at your disposal.
More and more lately, mothers of the bride have been seen in everything from pantsuits to miniskirts.
However being in your 50s, you may want to err on the 'conservative' side –  no one wants to look like mutton dressed as lamb. 
Ultimately, the options are much more varied than you'd expect.
And while this might make the decision all the more appealing, it's also conversely, going to make it a bit tougher.
The next question you'll want to ask is, what the couple thinks about your intended outfit?
You shouldn't be making your decision based solely on this of course. 
However, you'll want to ensure you have an idea about the colour and how formal the event will be. That way you won't be 'clashing' with the bride and groom regarding style.
You might pick something different for a beach wedding than a formal, ballroom event – and it's handier having this information from the start.
Lastly, it's important to decide whether you will be coordinating with your child's partner's mum.
While some people like to do something very different, others like to match in colour and design.
The bonus is that this is potentially a chance for you to get to know each other,  and even have some fun before the wedding.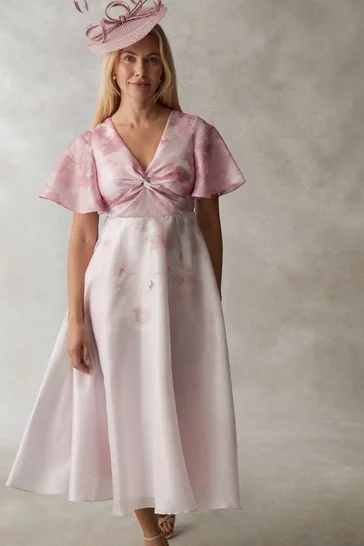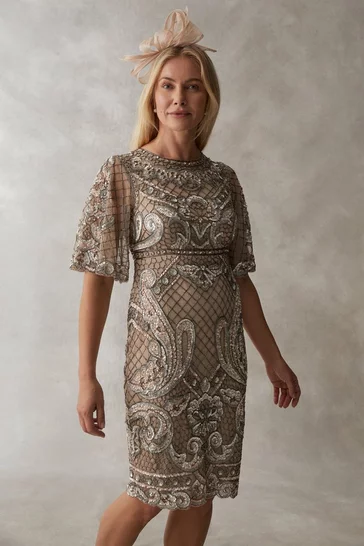 Mother of the Bride Dresses From Coast
Choosing Mother Of The Bride Dresses 
Now that the initial questions are out the way, you can move on to picking the perfect outfit for the occasion.
Here are some tips to help you do just that:
Coordinate with the Colour Theme
Not all weddings have a colour theme, but it is pretty common.
Some mothers of the bride opt for colours that match the bridesmaids – while others opt for colours that complement the colours of the wedding.
This decision will not only depend on the wedding décor details themselves but also on the skin tone and preferences of the mother of the bride.
You're certainly not going to want to pick something that washes you out, simply because you match the wedding décor.
If you are opting for a colour of your own, the best advice is to go for quieter shades so your outfit doesn't become the 'loudest' attendant at the event.
When it comes to colour "don'ts", you'll want to stay away from all black as this can put across the wrong message in this sort of situation.
Further, don't wear the same colour as the bride, no matter what that is.
And of course, the old rule still stands – don't wear white to a wedding!
Mother Of The Bride Outfits For Over 50s UK
Here are a list of some of the most popular UK shops when it comes to mother of the bride outfits
John Lewis: Known for their range of high-quality clothing, John Lewis stocks a wide range of elegant outfits suitable for the mother of the bride.
Debenhams: At Debenhams, you'll find an extensive range of mother-of-the-bride outfits from a range of brands.
Jacques Vert: This brand has a great reputation for wedding attire, including a wonderful selection of mother-of-the-bride dresses.
Phase Eight: Here you will find a variety of stylish and contemporary outfits suitable for the occasion.
House of Fraser: This department store stocks a large number of brands with options for mother-of-the-bride outfits.
Hobbs: Known for its timeless and sophisticated style, Hobbs offers some stunning options.
Monsoon: A favorite for many, Monsoon provides unique and stylish designs.
Coast: Coast offers an array of chic, modern outfits that might appeal to the contemporary mother of the bride.
Marks & Spencer: M&S offer a good selection of formal wear and occasion dresses.
Consider the Season when choosing an outfit
Unless the entire event is taking place inside an airconditioned or heated room, you'll want to make sure you consider the season before choosing your outfit.
If the event is at the height of summer, you'll likely be taking pictures outside and traveling to and from the venue.
So even if it's all taking place inside, you'll want to add layers that can be removed when you get too warm.
Equally, if it's winter, you'll want to consider adding a coat or at the least a wrap or shawl.
The world is your oyster when it comes to choosing accessories for a mother of the bride outfit.
While hats have traditionally been all the rage, you can equally draw attention to your beautiful ensemble by adding a stunning neckpiece or headband.
Remember that you'll not want to draw too much attention away from the bride, so it's best to err on the side of caution when it comes to the bling.
And being over 50 you will likely be toning the accessories down in any case
However don't be afraid to play around with it a bit.
If you're still not sure how to accessorise, a sleek clutch and a nice coat make for the perfect additions to a winter outfit, while a lighter bolero suits a cooler, summer evening.
Remember You Are The Mother Of The Bride
Make sure that you're not showing too much cleavage or too much thigh at your daughter's wedding.
Even if you are in good shape for a woman who is over 50, resist the temptation to show off your figure too much.
You'll want to leave that to the younger bridesmaids at the reception. Wear something that is age appropriate for over 50s.
It's also important not to instinctively opt for the most fashionable item on the rack. 'Timeless' often means something that doesn't rise and fall in popularity.
Yes it might be tempting to opt for something that turns heads. However you might not feel that way when your grandchildren look through the wedding pictures in years to come!
As much as we don't want to admit it, high-quality fabrics just photograph better, so consider this if you can afford to spend a little extra.
You will likely be spending the day moving from one location to the next. And sitting down for potentially long periods of time, you're likely going to end up wrinkling your outfit and cheaper fabrics tend to wrinkle much more.
Further, synthetic fabrics will have you sweating very quickly in the heat, and this is a look you'll probably want to avoid.
When opting for a brand, consider one that you're familiar with – one that you know suits you well.
Lastly, and perhaps most importantly, is that you remember to choose something you feel good in – after all, this is meant to be one of the happiest days of your life!