Get The Glow: Make Up Tips For The Over 50s
Our styles change as we age, including how we apply our makeup.
You wouldn't dress the same way you would when you were 20, so why would you apply your makeup the same way?
The trick to looking absolutely fabulous in your 50s is to know how to apply makeup that will enhance all of your best features.
Ageing comes with various challenges, including fine lines and wrinkles, as our skin tone and texture change.
If you've been slathering on the foundation to hide these faults, you're likely going about it the wrong way.
When it comes to makeup for over 50, less will be more.
So I'll share the best makeup tips for over 50s
Makeup Techniques For Women Over 50
Before you learn how makeup for over 50 is done, you should start by forgetting everything you know about applying makeup.
Remember when they told you to apply blush on the apples of the cheeks? Well, forget that – you're going to want to start up at the cheekbone line and then work your way inwards, blending as you go.
When applying makeup as an older woman over 50, a few small adjustments to how you do things will make all of the difference.
The Best Foundation Make Up For Over 50s
Choosing the right foundation is integral because it's the base on which you'll start to build the perfect, fresh and youthful look.
Skin naturally becomes drier and thinner as we age, so moisturiser will be your best friend.
This is one of the best tools in your anti-ageing toolbox to help give your skin and complexion a healthy glow.
So What Type Of Moisturizer Is Best For Older Women?
You'll want to pick something very light – and don't even think about packing on the foundation to hide those wrinkles and fine lines because that will highlight them all the more.
This is one of the challenges you face with mature skin.
Experts also suggest looking for a foundation shade that is a shade warmer than your own. This will help your skin to glow without looking washed out.
As you would have done when you were younger, you'll want to blend the foundation past the face and down onto the neck and décolletage.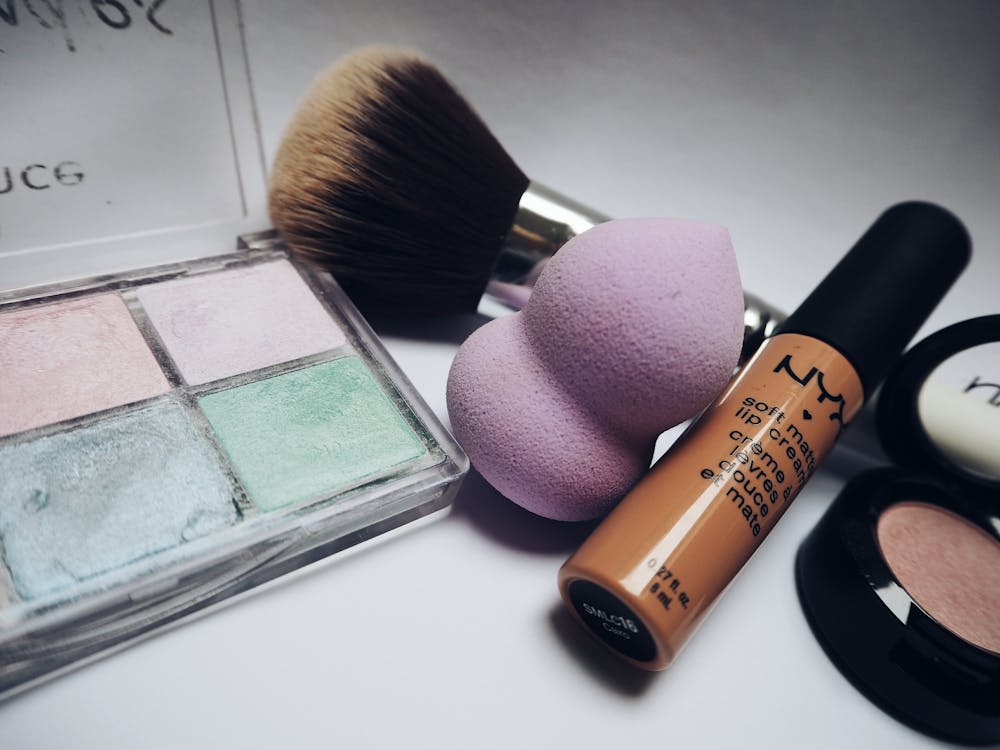 Bronzer can then be layered on, and if you haven't used bronzer in recent times, you'll want to start using it now because it can give the skin a lovely, natural glow.
When adding bronzer, you'll want to focus under the cheekbones, the forehead, nose and under the jaw.
If you want to take your makeup game up a notch, you'll want to invest in some primer (this goes on before the foundation and smooths out the skin, minimizing pores and wrinkles without layers of product).
You can also use a concealer to correct problem areas (locations on your skin that are prone to redness or discolouration) but don't overdo it.
Lastly, add in some loose powder (only a touch) to set your foundation.
Learn The Skills Of Applying Your Makeup Over 50
When it comes to applying makeup, there are so many different options you can choose from.
If you're looking to even out your skin tone, you'll want to opt for a moist sponge or even a brush.
This will keep the application light – something that is integral to youthful looking skin. You'll want to invest in products that blend easily so that you don't have to spend ages on your look every day.
When applying makeup around the eyes, you'll want to focus on the inner corners of the eyes as this is where women tend to get darker hues.
Maintain Your Eyebrows Correctly
Then, when it comes to the eyebrows, there is a very important rule: do not try to tweeze them.
As you age, your eyebrows may thin, and you don't want to lose more than you absolutely have to. If they become unruly, trim them instead.
You'll then want to opt for a very natural, light pencil that will help fill out your brows without making them look like they were drawn on.
Heavy eyebrows will drag the face down and we want everything as far north as possible.
Best Tips For Getting Eye Makeup Right For Over 50 Women
Now when you focus in on the eyes, you need to remember that they will naturally sag as time passes.
This is normal and there is little you will be able to do about it (apart from going under the knife) but there are ways to combat this with makeup alone.
The trick is to focus on widening the eyes using light, natural colours.
While you might have rocked a smoky eye in your 20s, now's the time for beiges and taupes.
When applying makeup to your eyes, always start of the inner section of your eyelids and draw it outwards.
You can add a darker shade to the centre of the eyelid, but don't go too dark. If you want to use a pencil on the lash line, making sure you're opting for plums, greys and browns, rather than black.
You can go all out when choosing your mascara because lengthening your upper lashes is very important when you're widening the eyes. Invest in something that will lengthen without you having to apply layer upon layer – this will prevent clumping.
It's generally not a good idea to use a pencil, mascara or even eye shadow on the lower lids of the eye. This will only make the eye smaller and highlight any problem areas you might have.
Dominique Sachse Makeup For Older Women
Dominique Sachse has certainly made a name for herself over the past few decades and with good reason – she knows her makeup.
Anyone looking for handy tips and tricks on applying makeup for over 50s, can find some great advice by following her lead.
Here are some of our favourite tips from Dominique regarding youthful makeup in your 50s.
Firstly, Dominique suggests that your makeup routine shouldn't be lengthy.
You don't want to spend hours in front of the mirror every morning – and chances are, even if you did, you might not look better for it.
Keep Your Make Up Routine Simple
A quick, simple and effective makeup routine is the best option for anyone looking to take years off their face and keep the routine going for years.
Next, when it comes to a good foundation, Dominique suggests something that will leave your skin looking light and dewy.
For this, she recommends choosing a very light foundation that focuses on moisture.
Something like a bb cream will work, but she also suggests cutting half of your current foundation with moisturiser to lighten it up.
Using a brush to apply your foundation will ensure that it's not caked on but will also show your skin beneath the foundation – another trick of hers.
Looking great with the right makeup for over 50 is easy when you know how it's done and with the right techniques, you'll look younger than you have in years.
Here Are Some Of The Common Questions About Makeup For Over 50s Women
What color eyeshadow makes you look younger?
Soft, neutral tones like peach, beige, and taupe can create a youthful appearance. Shimmery champagne on the inner corners brightens the eyes, making them appear more vibrant and youthful.
Should 50 year olds wear eyeliner?
Yes, 50-year-olds can wear eyeliner, but it's best to opt for softer shades like brown or gray. A smudged, subtle line can define the eyes without making them appear harsh or overly dramatic.
How can I make my 50 year olds eyes look bigger?
To enlarge the appearance of the eyes, use light eyeshadow on the lids, highlight the inner corners, and curl the lashes. A soft eyeliner on the top lid and mascara on upper lashes can further enhance the openness of the eyes.
Should an older woman wear mascara on bottom lashes?
It's a personal choice. However, skipping mascara on bottom lashes can avoid drawing attention to under-eye wrinkles or bags. If used, choose a smudge-proof formula to prevent raccoon eyes.
What can I do for thinning or uneven lashes?
For thinning or uneven lashes, a nourishing lash serum can promote growth. When applying makeup, use a volumizing mascara and consider a lash primer. In extreme cases, lash extensions or a lash growth serum prescribed by a dermatologist can be beneficial.