Walking Groups For Over 50s That Will Leave You Empowered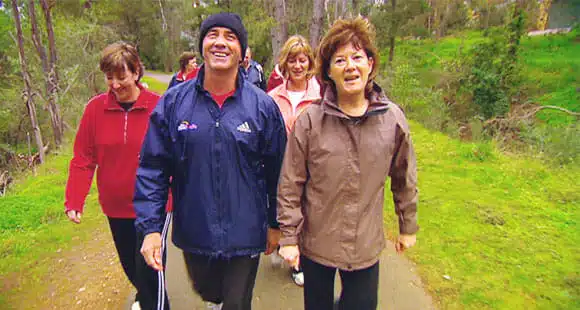 You might be wondering why it would benefit you to join one of your local walking groups for over 50s. Well, we have news for you.
As people begin to age, they start facing a variety of novel difficulties, and so it often helps to get proactive to prevent from getting overwhelmed by these challenges.
Two of the biggest challenges faced by those who reach their 50s are middle age loneliness and a deterioration of our health in general.
My Walking Group Story
I decided last month to join an over 50s walking club,  after hearing good things about its positive impact on overall wellness from one of its members who lives near me.
Since then, it's been amazing how quickly its made such a difference in how I feel daily!
Engaging in regular exercise through these walks has brought about significant improvements to my physical health while providing peace of mind knowing that I'm doing something beneficial for myself.
Moreover, the camaraderie amongst us is truly special – exploring new areas during our weekly outings helps us form deeper connections and a real sense of community, which is invaluable.
This social group has become an anchor for me outside of work hours enhancing both my physical and mental wellbeing.
Walking Groups For Over 50's Near Me
One of the best ways to tackle these problems is to join one of the many over 50s walking groups in your own locality,  that allow you to exercise and interact with others at the same time.
If you can't decide whether these walking groups are for you or not, take a look at some of the benefits of participating.
Although a lot of us middle-aged people join walking groups for the fitness aspect, for many people, there is also the potential to meet new friends, or perhaps even romantic partners!
So there is absolutely nothing wrong with joining a walking group, with over 50s dating at the back of your mind.
The Gym Isn't the Only Place to Get Fit
Most people assume that walking is simply for reaching one place or another, but in reality, it is actually a great way to get fit.
You don't need to run a marathon or join a basketball team to get a cardio workout – according to the experts, a 35-minute walk daily, will actually meet your over 50 exercise needs.
As you get older, physical fitness becomes a requirement for mobility, and ultimately, for independence, so it becomes more and more important to stay on top of your game as you age.
In a recent study, it was shown that individuals who exercised regularly lost around 13% of their aerobic power over 23 years, while those who didn't lose almost 50% of theirs.
It's Cost Effective
Another great benefit of walking groups for over 50s, is that they often cost nothing at all, so it is something that just about anyone can enjoy.
Gyms and other fitness-based classes can quickly get expensive, and cost is one of the main reasons why people put off joining.
Walking groups, on the other hand, require that a handful of people meet at the same time, at the same place on a specific day of the week and simply go for a walk.
Joy Of Companionship
One of the most appealing things about walking groups for over 50s is that this is a group activity, and because it doesn't require a whole lot of physical exertion, it is also a great opportunity for people to socialise with others.
Not only are they good for mind and body, but they also can be a great place to meet a future partner, if you are over 50 and  single!
In some instances, a weekly walking group might be one of the few times a person gets out and meets with others their own age, particularly if they have chosen to retire, or if they have other demands that they need to meet at home.
For those who are still very active in their careers, it allows them some much needed down time so that they can return to work well rested and ready for another challenge.
Walking Groups For Over 50's For Better Health
Exercise aids in strengthening just about every part of the body, including the organs, joints, the brain and even helps to improve emotional responses, making it one of the most important investments that you will ever make in yourself.
Ultimately, over 50s walking groups are one of the many ways you can ensure you are providing your body with what it needs to function at the best of its ability.
Whether you're going to be joining a group for the friendships or for the exercise, it will most likely be one of the best decisions you have ever made.