Seasoned And Savvy: It's Those Single Men Over 50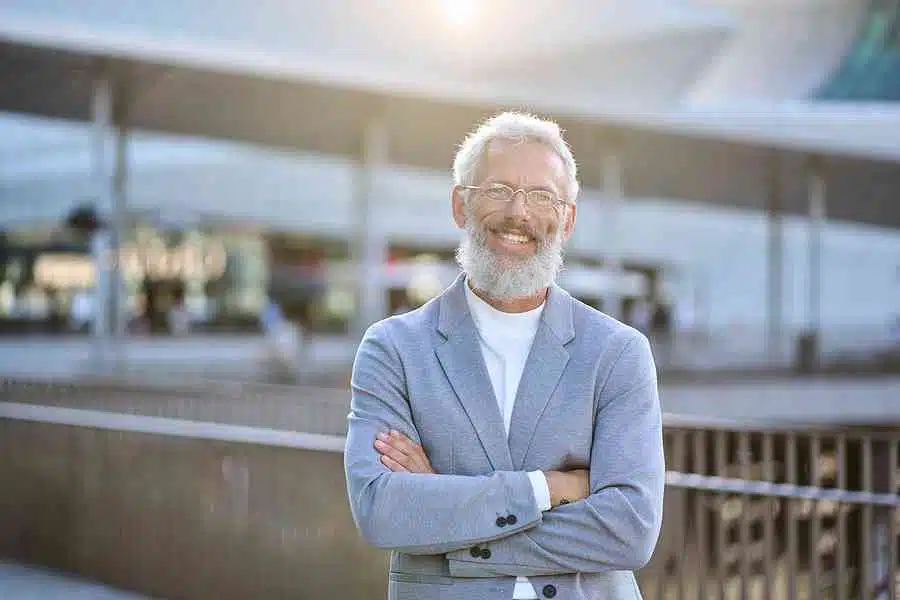 Ok, so single men over 50 have piqued your interested.
Maybe you simply want to know what makes them tick, or you're on the lookout for romance.
I'm going to explore innovative ways you can hopefully snag your dream over 50's guy.
Dating is an active skill, but it's also a numbers game. 
So if you're in the market for a single man over 50, you're going to have to put yourself out there a bit.  
 The more you're out there, the more likely you are to meet somebody that you really connect with.
Where Can I find Single Men Over 50?
And where should you go to meet these over 50 men – these eligible bachelors, who may just end up being your next boyfriend? 
Or maybe even a husband?
Stick around; I'm going to tell you right now.
Contrary to what you might think, I'm not going to suggest a dating site right away.
Yes of course you can meet men over 50 on a dating site. However there are lots of other great places to meet single men over 50.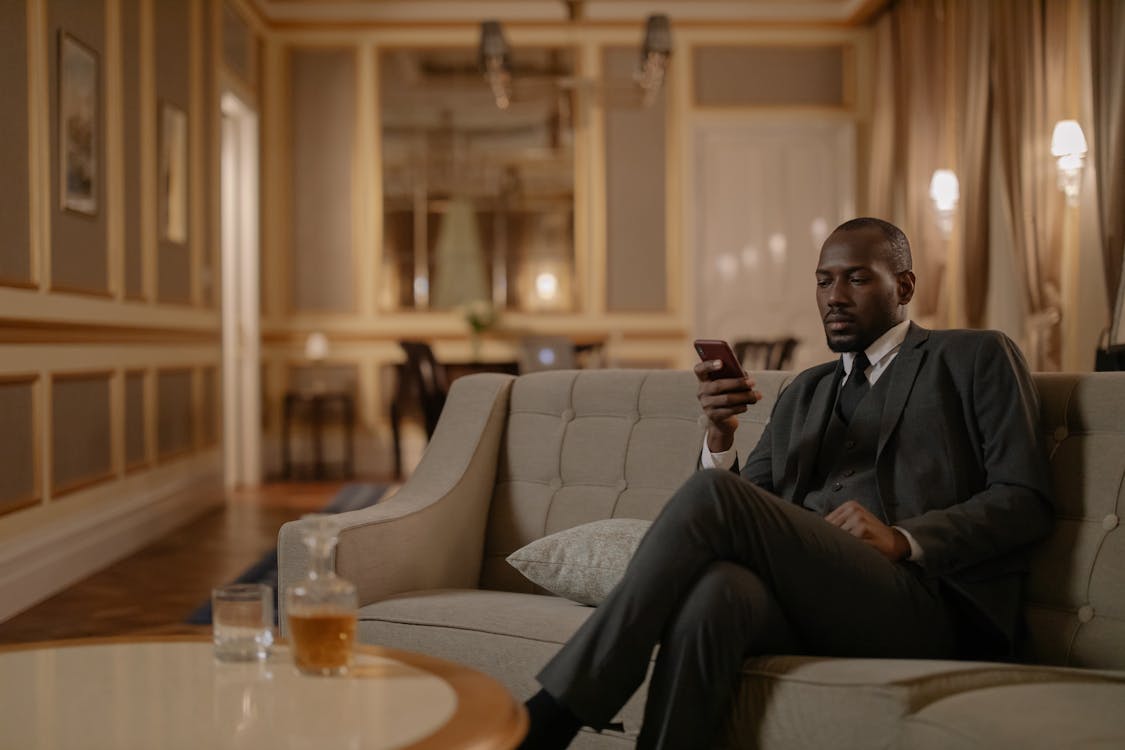 Top Ideas For Meeting Single Over 50s Men
Ok, I know it's cliche. You've heard it before, but number one is the grocery store. 
 I just feel it's easy there to connect with people and talk about products.  
Watch for those men with weird vegetables that you don't typically buy and  ask them how they prepare them, because you've never tried it.
You can start any conversation about food or what you can do with this vegetable or that vegetable…simple!
Talk to people at the grocery store.
Even the line is a good place. If you only have a couple of items, give a look like, 'Are you gonna let me go ahead of your full cart?' to a nice-looking gentleman that piques your interest.
Or in reverse – if you've got a full cart, let some good-looking man with 15 items, go ahead of you. It's a clever way to initiate a conversation.
Meeting A Man By Using Man's Best Friend
Yes I'm talking about a dog.
Do you have a dog?  If you do, then the dog park is a great place to meet the opposite sex. Its also a great place to meet other dog lovers and maybe create friendships.
Maybe not even a friendship that leaves the dog park, but people have really interesting friendships that have been acquired while standing around and chatting while their dogs are having fun.
If you have a dog, check out your park district.
A lot of times park districts have parks for dogs. So, check out where your nearest dog park is. You'll often find plenty of good-looking men over 50, walking their 4-legged companions.
Start a conversation, because it's the most natural thing to do in a dog park.
Even if the man is married or with a partner, exchanging a couple of words will do absolutely no harm.
Everybody is talking to strangers there and you're talking about something that you love, your dogs.
If you don't have a dog, why not borrow a friend's dog or a neighbours dog. (However please, please adopt, if you're going get a dog yourself)
The Coffee Shop Is A Great Way To Meet Single Men Over 50
Number three, (also a cliche) but I've talked to plenty of really nice and attractive and, interesting people in coffee shops. Particularly those who are working, while also having a coffee.
It's another place where people are not at all put off if you start a small conversation. It's very natural to engage in some conversation with people at a nearby table in a coffee shop.
Coffee shops are on every st corner these days. The neighborhood coffee shops are plentiful these days and who doesn't like a cup of coffee or a cup of tea on a nice winter day?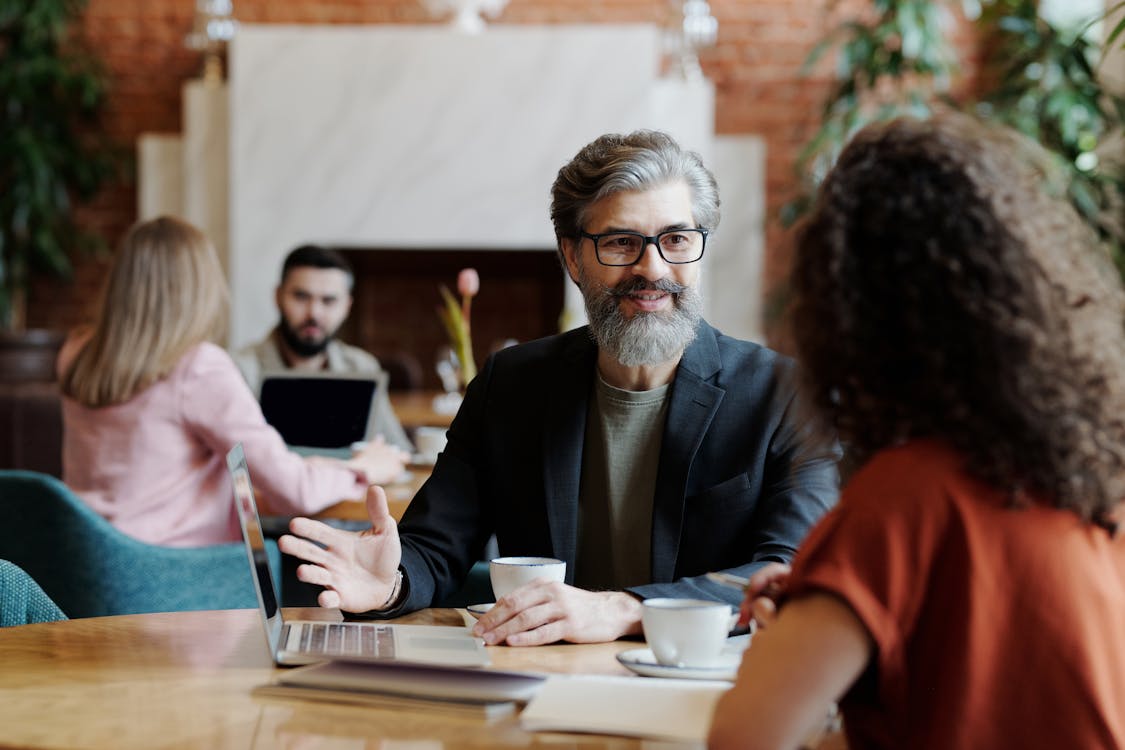 Instead of working from home, or on your way home, instead of grabbing something to go…. go inside.
Do some work on a Saturday at the coffee shop.
If you sit there for a couple of hours, you will be amazed at all the people who come in and make eye contact with you. Great place to meet single men over 50.
Taking A Class Can Be A Great Idea For Singles Over 50
So, taking a class or going to hear a lecture somewhere – those are things you do for yourself and to keep yourself out there, whilst learning and growing and knowing what's going on in the world.
Perhaps a cookery class, going to hear a lecture or hear a book reading. Those are really good places to meet members of the opposite sex. Plenty of middle-aged men take classes, on many take cookery courses. Sometimes a good way to spot a recently separated or divorced man!
Bars And Clubs –  The Fallback Solution To Meeting Over 50 Single Men
I'm a little bit loath to suggest this one, but it's the old fall back solution.
Yes I'm talking about the bars, the dance clubs, the nightclub or whatever. If you are in your 40s or 50s, like me, it's likely you have probably left the bar scene behind.
It can take a bit of effort to drum up the enthusiasm back into a bar. However occasionally it can be a great excuse to go and hear live music or maybe get a dance.
Obviously avoid the pubs and clubs where the young ones go, and try to aim for somewhere where the more mature people might visit.
If you enjoy live music, grab a friend. Go out on a Friday night. See who's there.
You might just have a great time with your friend, but you might meet a nice middle-aged guy who also loves live music.
There's Tons Of Ways To Meet Single Men Over 50
Finally, the fact is, you can meet men anywhere. If your head is in the right space, if you're open to it, friendly and have a smile on your face.
Anywhere you go where there are men, you can potentially start a conversation. The big advantage is that men actually are much more receptive to a woman starting a conversation, and vice versa.
Women can often feel uncomfortable when a strange man initiates a conversation.
You can just say hello. It can be as easy as smiling and saying hello.
But if you have that positive energy and friendliness emanating from you ,and you're willing to put yourself out there and risk rejection, then the world's your oyster!
Meeting Over 50 Men On Online Dating Sites
Keeping your distance and exchanging contact information with new people should be done with caution. estimates suggest that 25% of people on senior dating sites could be scammers.
Trust Your Gut Before You Start Dating
Trust your instincts and never send money or reveal your last name until you're sure of the person's authenticity.
With patience, adopting these dating advice points, love in this age is indeed possible. Books on middle-aged dating also offer great insights. Remember, in the quest for love after 50, anything can happen.
It's crucial to remember that not every older man you meet, be it single or married, is potential dating material.
Don't let this discourage you.
Instead, look at every meeting as a chance to learn what others have experienced. Understanding their life stories might even give you better dating advice than any book on middle-aged dating could.
Additionally, don't estimate your success ratio of finding love solely based on the ratio of single women to single men.
Love and connection happen when least expected. Many senior singles, especially widows, have found love after 50, proving that finding the right person is possible at any age.
Lastly, adopting an optimistic mindset is critical.
After all, the joy of finding love later in life is a journey in itself. Remember, every single senior is seeking the same happiness, so you're not alone in this quest.
What percent of 50 year old men are single?
If you're a fifty-year-old man wondering about your chances of being single, let me share some statistics with you.
The good news is that the majority of fifty-year-old men are not single.
According to recent research, only around 28% of men in their fifties are still single and ready to mingle.
So don't lose hope! With a little bit of effort and a positive mindset, you can increase your chances of finding love and companionship. Remember, age is just a number, and love has no expiration date!
How do I find a good man after 50?
If you're wondering how to find a good man after 50, let me tell you this: it's never too late to find love and companionship. Take a moment to reflect on what you truly want in a partner, and don't settle for less.
Remember, age is just a number, and you have a lifetime of experiences and wisdom to offer. Embrace this chapter of your life and have faith in your journey of finding a wonderful man after 50.