Defining Ageless Beauty: 7 Fashion Tips for Women Over 50
In today's society, which often idolises youthful looks, it can be daunting to embrace beauty with age, especially for women over 50.
However, it's time to break free from stereotypes and garner the confidence and elegance that come with age.
If you're a mature woman over 50, then you should know that fashion is not just for the young – it's for any woman who wants to express their individuality and feel fabulous at any age.
After all, the old adage "age is just a number" still holds true. So if you've been meaning to make changes to your personal style, let us help you embrace your unique beauty and showcase your individuality.
Whether you're attending an event or simply off to work, get ready to step out in style and let your choices speak volumes with these 7 beauty and fashion tips.
Fashion for women over 50
Fashion is always evolving with time, and as a woman over 50, it can be helpful to understand the latest trends and how to adapt to them while still remaining true to your unique style and body type.
The key is to embrace beauty and fashion styles that build positive body image, enhance your natural beauty, and boost your self-confidence.
Age should never be a limiting factor when it comes to fashion choices, period.  This includes men's fashion over 50 too. .
Dressing for your body type
As we age, our bodies go through different behavioural and hormonal changes. The clothes that we used to wear may not fit or flatter our current shape.
So it can be helpful to find clothes that highlight your best features while creating a harmonious balance between fashion and comfort.
For example, you can opt for tailor-made dresses that cinch at the waist to highlight your curves or choose clothing that accentuates your upper body and balances out your hips.
It's also a good idea to choose clothing that skims the body rather than clinging to it for comfort while still creating a flattering and elegant look.
Lastly, don't be afraid to experiment with different styles and silhouettes to find what works best for you since everyone is different. Fashion is all about expressing yourself, so take your time experimenting with different styles.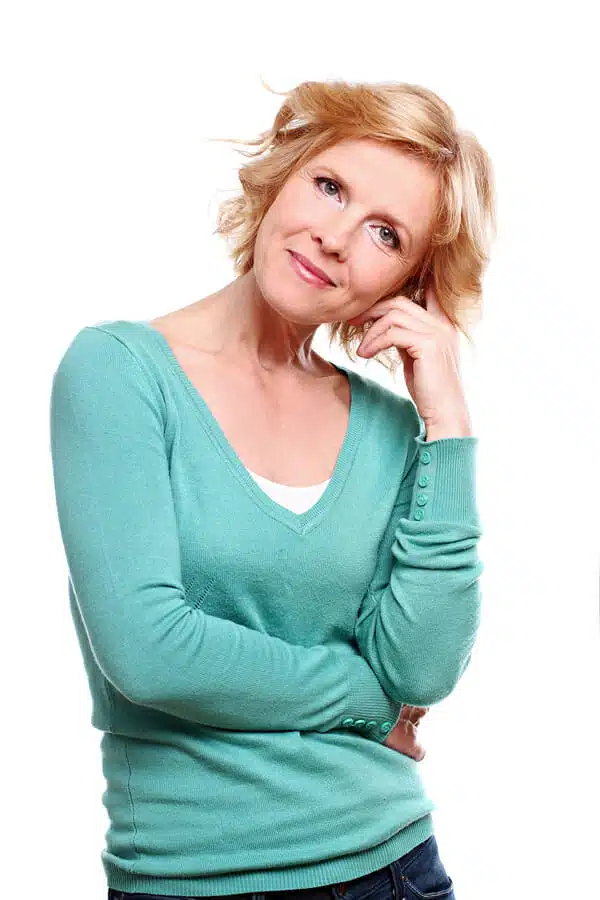 Colour and pattern choices for a youthful look
Colour and pattern choices are everything when it comes to creating a youthful and vibrant look. Our skin tone changes as we age, but using the right colours can still help us look younger.
Opt for lighter colours, such as creams, whites, tans, and even lighter shades of pink and purple, as they always work wonders in bringing out your complexion and making you feel radiant.
To add a touch of luxury, choose jewel tones such as emerald green, sapphire blue, or ruby red.
When it comes to patterns, don't be afraid to incorporate them into your wardrobe because they can add more personality to your look.
However, it's a good idea to choose patterns that work with your body size.
For instance, smaller prints work great if you're petite, while if you're taller or curvier, you can go for larger patterns. Stripes and florals are excellent, timeless options that work with any outfit.
Colours and patterns that complement mature skin tones
Colours and patterns can be used to create not only a youthful appearance but also a look that works with your age. For example, neutral colours, such as navy, beige, and grey, can create a sophisticated and timeless look.
These colours are also versatile and can be easily paired with other pieces of clothing in your wardrobe.
For patterns, timeless classics such as polka dots, houndstooth, or plaid are excellent options that can add interest to your outfit without overpowering your overall look.
Additionally, consider adding a touch of elegance and sophistication with fabrics such as lace, velvet, or silk.
Staying trendy while maintaining comfort
Just because you want to be more fashionable doesn't mean you have to sacrifice comfort for style. In fact, feeling comfortable should be your priority when choosing outfits.
Look for trendy clothing pieces made from breathable fabrics, such as cotton or linen, that are designed with both style and comfort in mind.
When it comes to shoes, opt for styles that provide better support and cushioning.
Also, wearing comfortable footwear doesn't mean you have to compromise on style, as there are plenty of stylish options available on the market today, from trendy sneakers to chic loafers. Don't be afraid to experiment and find what works best for you.
Embracing your personal style with confidence
Fashion is a form of self-expression, and as you get older, it is important to embrace your personal style. Whether you prefer a classic, minimalist look or enjoy experimenting with bold and sophisticated pieces, it's important to be true to yourself and wear what makes you feel confident yet fabulous.
Take time to explore different fashion trends and find inspiration that resonates with you. It can also be helpful to follow fashion bloggers or influencers who cater to women of your age and gather inspiration and ideas for outfits that align with your personal style. Remember, you have the power to create your own unique and stylish look.
Wearing fragrances to enhance your beauty and style
Perfumes and fragrances can be powerful accessories that complement your personal style and leave a lasting impression on anyone.
Whether you love floral, spicy, woody, or citrus scents, there is something for everyone, and it is easier than ever to get women's perfume samples that reflect your personality and complement your outfits. When applying perfume, remember that less is more.
Gently apply a light spritz on your pulse points, such as your wrists and neck, to ensure the scent lingers without being too overpowering.
Embracing self-confidence and body positivity
Above all, remember that fashion is not just about your styling choices and the clothes you wear; it's also about how comfortable you feel in them.
And often, confidence is key when it comes to ageless beauty. Don't be afraid to stand tall, walk with grace, and let your fashion choices be a reflection of the incredible woman you are.
Experiment with new styles and step out of your comfort zone time and again. Fashion is an ever-changing trend, so it's never too late to experiment and find what makes you feel best in your own skin.